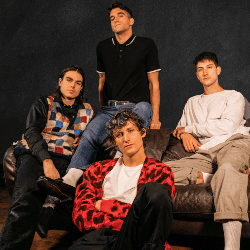 PHIPPS FEST '22 | YAM HAUS
Phipps Fest returns to Hudson's Lakefront Park on Saturday, August 6th featuring Yam Haus, the Minneapolis-based band (with Hudson connections). There's nothing better than live music outdoors with drinks, food, and friends.
Yam Haus invites everyone into the embrace of their neon-hued, dance floor-tailored alternative pop. The local quartet—Lars Pruitt [lead vocals], Jake Felstow [drums], Zach Beinlich [bass], and Seth Blum [guitar]—fuse together intimate songcraft with stadium-sized ambition.
$40 - Phipps Fest Promoter (Limited - early entry at 6 p.m.)
$25 - General Admission (entry at 7 p.m.)

$15 - General Admission for kids 6 and under (entry at 7 p.m.)

****All attendees must have a ticket.